Badminton Racket Yonex Astrox 800LT
Flex:Stiff
Frame:HM Graphite / M40X / EX-HMG / VDM
Shaft:HM Graphite / NANOMETRIC
Joint:NEW Built-in T-Joint
Length:10 mm longer
Weight / Grip: 5U (Avg. 78g) G5, 6
Stringing Advice 5U: 19 – 27 lbs
Recommended String: Control Players:BG66 ULTIMAX
Hard Hitters: AEROBITE BOOST
Color(s):Black / Ice Blue
Made In:Japan
Bag: Standard Bag Included
String: String not included / This frame comes unstrung 
৳ 42,990.00
Compare
A lightweight derivative of the NANOFLARE 800 is for advanced players looking to control the court with accelerated maneuverability from a headlight racket.
5 Stars

4 Stars

3 Stars

2 Stars

1 Stars
If you finish the payment today, your order will arrive within the estimated delivery time.
Only logged in customers who have purchased this product may leave a review.
You may also like…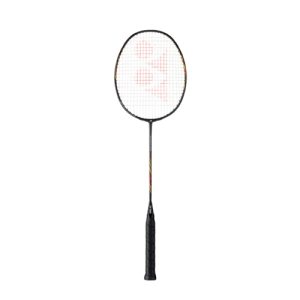 Flex: Stiff Frame: H.M. Graphite, SONIC METAL Shaft: H.M. Graphite, X-FULLERENE Stringing Advice: 4U 19-24 lbs, 3U 20-25 lbs Color:…
Material: High Resilience Modulus Graphite + PYROFIL + Nano Fortify TR+ Head shape: isometric Grip size: G2 = G5 (medium)…
Material: High Resilience Modulus Graphite + PYROFIL + Nano Fortify TR+ Head shape: isometric Grip size: G2 = G5 (medium)…